Proposal/planning for 2021:
establishments or other entities in Norway:
- Oslo: tram, tram museum and T-Bane with several suburban railway lines,
Hamar railway museum (distance 130 km)
- Bergen: modern and museum tram (Technical Museum, Reko Berlin), Fløbanen, trolleybus
Gamle Vossebanen (Old Vosse railway) Museum railway near Bergen, from Midtun to Garnes
- Trondheim: Tram to Lian, Gråkalbanen (historical) with tram museum,
Day trip to Thamshavnbahnen (narrow-gauge industrial railway, 1,000 mm), distance 70 km
Getting there:
- by which Ferry from Kiel to Oslo (possibly as a group), but takes about 20 hours
departure daily 14.00 from Kiel Skandinavienkai, arrival Oslo the following day 10.00
- by ferry via Frederikshavn (North Jutland / DK) to Oslo, if Århus has been visited before
departure daily 9.15, arrival 18.30 in Oslo
- by plane directly from various cities (Hamburg, Düsseldorf, Cologne, Frankfurt, Stuttgart,
Munich and Berlin) to Oslooder Trondheim or Bergen (both with change in Oslo),
- by rail, for example from Hamburg in ... hours (via Copenhagen, Gothenburg and
Karlstad, 13 hours to Karlstadt, overnight stay, another 3 hours to Oslo)
We were recommended by tram friends
- to start in Trondheim, to put Oslo "in the middle" and Bergen in the end.
Alternatively, Trondheim is also possible; then day trip (via Oslo) to Bergen and
finally Oslo, in order to there - similar to Stockholm - the end of the conventionindividually
other railways or routes and museums or places of interest.
The order of the cities to be visited still has to be voted on!
Travel within Norway:
you can reach the main destinations by train with the Interrail Pass
This costs for 3 / 4/ 5 or 6 days as a senior (over 60 years) 153 / 177/ 199 or 218 €,
Adults (up to 60 years) pay 170 / 197/221 or 242 €uro.
When transferring from Oslo to Bergen via the 518 km long Bergen Railway, with the highest point in Finse at 1,222 metres, the "detour" via Flåmsban is a good option. The 20 km long route, with 55 per mil the steepest route in the world, starts at Myrdal (at 860 m) and leads through an impressive mountain landscape, with a stop at Kjosfossen - Kjos waterfall. At the end point by the fjord is the Flåmsbahn Museum.
From Flåm you can take an express boat once a day for a five-hour trip through the Auerlands and the deepest fjord in Norway, the Sognefjord , to Bergen - this tour can also be taken in the opposite direction from Bergen to Oslo.
From Trondheim we have planned a day visit to the Thamshavnbanen.
From Bergen you can reach the Gamle Vossebanen in Arna within a few minutes.
A visit to the railway museum in Hamarist conventionscheduled for the end of the .
Krøderbanen is located 80 km east of Oslo, where diesel and also steam is used.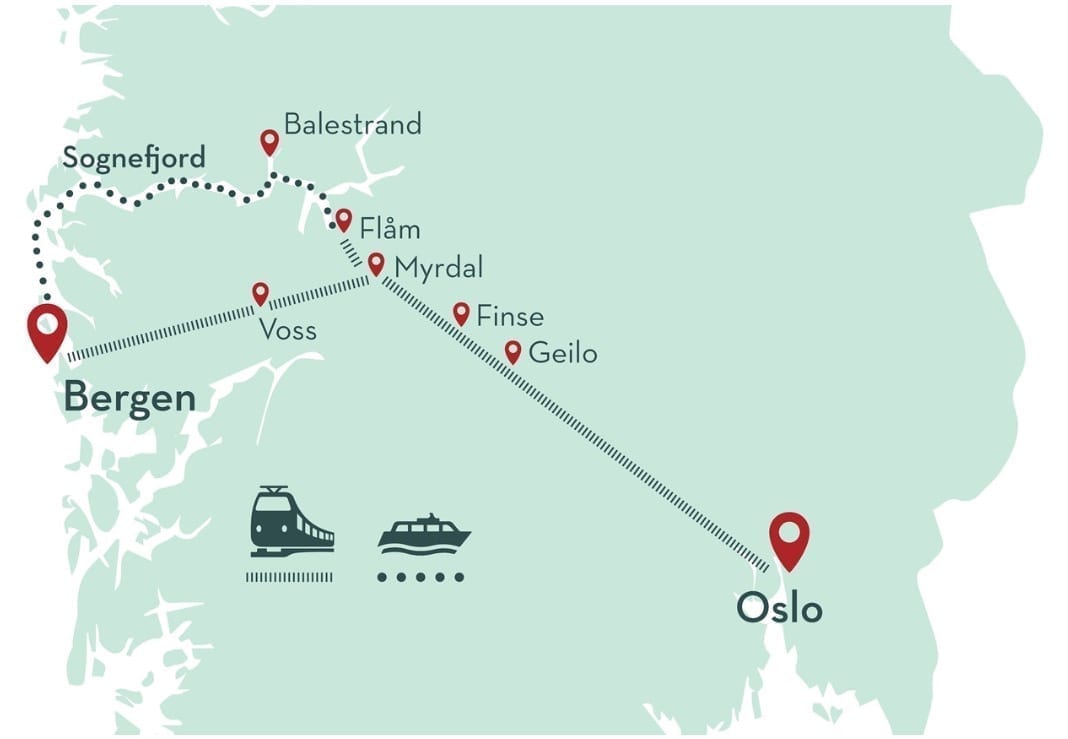 Hotels:
Following the very positive experience in Sweden, we intend to book Scandic Hotels in Norway again. In Oslo, Trondheim and Bergen there are several houses in central locations in the city area, but we can only check availability and prices from July.
The museum tram colleagues in Oslo and Trondheim are taking care of us respectively, to Bergen we still have to establish contacts, both to the company and to the Technical Museum.
Estimated conference period: mid-July to early August, 10 days (without travel to Trondheim), with the possibility of exploring further suburban routes or railways on your own at the end of the conference.